Many flooring companies we've worked with over the years have a true love for quality wood, carpet, and tile. They get a deep satisfaction from seeing satisfied customers stand on their new floor whether freshly installed or after 10 years. Pride in the quality of their work and customer satisfaction are just a few reasons why they love working in the flooring business.
Today more than ever, businesses understand the importance of a well-built and designed website. After all, a good website is the cornerstone of a successful internet marketing effort and business in general. Outside of the website, there are dozens of crucial marketing tools businesses can use to get their name out there and generate leads.
A good digital marketing expert knows how to use the internet to achieve the best results for your business. Their efforts go well beyond putting out social media ads and website redesign. Search Engine Optimization (SEO) is one of the best approaches you can take to improve your google ranking and get noticed online.
While improving your google ranking takes years of practice and knowledge to get right, there are some things you can easily do yourself to start improving your online ranking.
These are 3 things you can do on your own to help your SEO and digital marketing efforts.
1. Create a Google My Business profile.
A properly optimized Google My Business (GMB) profile tells google and your customers important information about your flooring business. A GMB post shows your address and location on google maps, your operating hours, company description,  contact information and links to your website.
Google My Business often let's people leave reviews which are visible when your profile appears in searches. Below is an example of what a Google My Business listing looks like.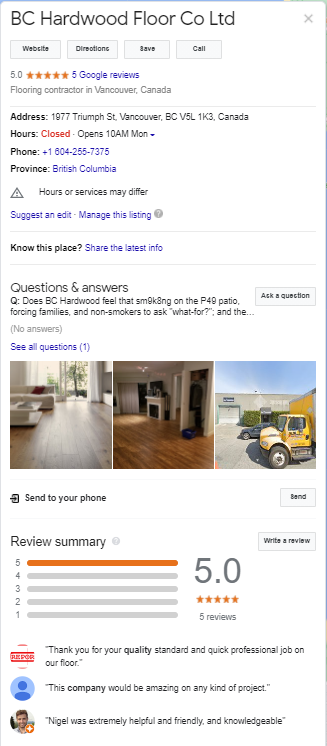 Tip: You want your contact information to be exactly the same as it's shown on your website so google properly connects them. Be diligent, and be careful not to abbreviate (type "street" instead of "st") and include a period at the end. For the best SEO results, your information needs to be exactly the same everywhere you have it online.
2.  Create Online Citations.
Citations are online mentions of your business and business information which Google uses when searching for information about your business. Citations could include anything from social media profiles, business directories, location-specific sites, and any other platforms like blogs, news sites, or anywhere where your business is mentioned.
Many business directories are great opportunities to provide your customers valuable information about your flooring business beyond your address. Business directories often let you display social media links, business hours, and specific products and services along with your business mantra, motto, and photos.
As with the Google My Business profile, you need to ensure your NAP (Name, Address, Phone) is consistent across all citations, as inaccurate citations can lead to a lower trust score by google which may hurt your business.
3. Optimize Important Web Pages
Look at your competitors sites
Your important web pages are going to be those that relate to your different flooring types or project. Google doesn't say exactly how they determine a businesses ranking, but looking at the top 5 organic (non paid) google searches for flooring companies will give you key insights into what google likes, and how you can mimic their website structure and content plan.
Important elements to optimize
Important SEO elements include displaying your address on web pages, the headlines you choose, and the ratio of important keywords to the total text written on the page. Important keywords are the specific words or phrases you want to rank for on google when searched, eg) "Indoor wood flooring"
The Webpage Address
For every important web page, make sure your main keyword is in the pages specific web address. Example: flooring.com/site-finished-flooring.
Whether it's a type of wood or project, the web address is the first thing that Google looks at when determining what a web page is all about and deciding when to show it in a potential customer's search.
The Headline Text
When considering the headline text, it's best to use the same keyword that you have in the web address.
Example: Chicago's Best Site Finished Flooring
Keyword Density
Keyword density refers to the ratio of your keywords (again, the important words or phrases you're trying to rank in google search for) to the total number of words on your webpage. For example, you have 100 words on your webpage article, then a 1% keyword ratio means having that exact keyword/phrase one time on the webpage.
If you'd like to try this yourself, you can search for the important keywords (eg – wood flooring company, carpet flooring, tile flooring), and check who the top 5 non-paid sites are. Don't look at directories like Yelp or Facebook page).
Take the total number of keywords divided by the total number of words and times by 100. That will give you the % of keywords and the keyword density.  Percentages between 0.5 and 2.5 are what you're after.
SEO practices are necessary, but without a properly designed website, any earned traffic from your SEO efforts will be lost, as clients struggle to navigate through your site and leave (called the bounce rate).  Conversion Rate Optimization (CRO) is another element of your marketing strategy that takes years to master. However, here are some general tips for improving your customer experience and increasing conversion rates.
Tell your clients what to do – Have a clear call to action placed prominently on the page above the fold (visible without having to scroll down)
Pop up's – Have a button or form pop up for your visitor to schedule an appointment or get a quote, making it easy to take the next step and contact you.
Social evidence – having reviews and testimonials on your main pages go a long way to validating your quality and trustworthiness claims.
As you can see, there are some easy ways to improve  SEO and customer experience for your flooring company. These practices are a good starting point, but navigating the world of google ranking and conversion rate optimization takes years of practice to master.
At Flooring Pros Marketing, we're experts in flooring, carpeting and tile marketing, and know how to improve traffic to your website and generate more leads.  If you'd like to learn more or see how we can help you increase revenue, give us a call at 204-818-0877 or contact us for a free strategy session here.