This is the first installment in a series of digital marketing activities you can do right now to drive more traffic to your hardwood flooring business. Check back for more in the coming days and weeks, or sign up for our newsletter and we'll send you updates.
Is your competition outpacing you when it comes to landing new projects/clients? Getting new customers shouldn't take as long as drying a quality finish. Yet your work is solid, and your past customers love what you've done for them, so how come flooring projects are coming less often than you'd like?
Although word of mouth may have been your best way to grow your business in the past, it is not guaranteed, predictable or scalable. With a strong online marketing strategy, you can generate quality leads to your business on a consistent basis, without having to worry about when that next lead will come.
Did you ever stop to look at your competition, the ones that are always busy? Have a look at their online presence, and we'd be willing to bet the house that they have a decent website, good social activity, and are ranking in Google maps, just to name a few things.
The steps detailed below are designed to help you increase your online presence and drive more traffic to your website and social properties. The more your company appears online, the more traffic you get. And the more people that see your business, the more people will become customers.
So let's start leveling the subfloor to get you ready for bigger and better things. Here is the first of five marketing activities you can do yourself, right now, that will make you more visible online so you can get more customers and projects.
Create an optimized Google My Business Profile (GMB)
Collecting Reviews
Your GMB page is where people can leave reviews for you. And hey, businesses with good reviews get more clients. Not only that, but reviews are also a strong local SEO factor.
Google likes to see that people are having positive interactions with your business.
And guess what, even a negative review every now and then is good, because A) it shows that your reviews are real and B) it gives you a chance to engage with someone, fix the problem, and show that you do all you can to give good customer service.
Tip: There are tools for making it easy to collect, track, and respond to reviews. If you want some advice platforms and how to implement, just apply here for a strategy session and we'll get back to you in 24-48 hours to set a time. 
Appearing In "Near me" Searches
You know when you want to find a pizza place near you, and tell OK Google or Siri, "pizza joint near me"? Same thing with hardwood flooring providers near me.
So what are the best ways to build a solid Google-friendly profile? Glad you asked…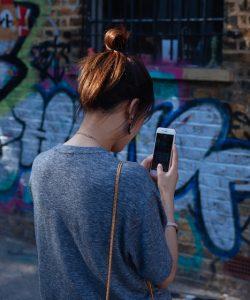 Looking for Pizza, or Hardwood, who knows, it'd be creepy to look directly over her shoulder
Make sure you have up to date and consistent contact info
This info is called your "NAP", or name address and phone number. Make sure that this is the NAP you are using on your website and any other online property you have. Even the smallest inconsistency can have a negative impact, as it can confuse Google. Yes, even big brother can be wrong, so we make it as easy as possible not to get confused.
This means keeping everything consistent down to the "Inc." or "LLC", basically to the last letter and punctuation mark. Not only that, but you don't want someone getting to your business' GMB page only to call the wrong number or show up at the wrong building.
Put optimized in-action pictures of you and your crew on the job
Studies have shown that pictures of this nature have a positive effect on visitors to your page, as opposed to just pictures of logos or other branding assets, or people just posing for the camera. The more pictures you add and more often you do it, will determine how strongly you rank in the maps.
You mentioned optimizing, what do you mean? Good question.
There are lots of ways to optimize images, and they are all important. But the best one to focus on is keywords. These are the products or services plus your location that you want to rank for. Whatever service you provide in whatever areas you serve, you want to have those tagged in your pictures.
Before you upload a picture, you can go into the picture itself and add these keyword. In your windows explorer, right click the image, go down to properties, then click the details tab in the popup, and where you see the fields I've pointed out in the images below, start entering your keywords.
Once you've done that, upload the images to your GMB.
Put the right content in your description
Aside from the services you provide, put all of the locations in your service area. Google will take those areas and services and put them together in its memory, so the next time someone searches for "luxury hardwood flooring in Springfield" you're more likely to appear.
You can even take it a step further and put the exact combination of services and locations with the most searches per month. Now this requires a little more research, so make sure the person executing this knows what they're doing, or find the latest article online to guide you.
Also, Include a link or two to your other social profiles and citations (we get into that further down). It helps create relevance, and Google will associate this profile with your business' online ecosystem. Google loves when you use their products, so why not make it obvious that there is a connection!
Other Tips
Select the right categories for your business
Selecting the right categories will determine whether or not you do or do not show up in the maps results.
You are able to select up to 7 categories for your GMB listing, so pick wisely.
The best way to determine what categories to choose is to see what is already working in Google by performing a search related to your service and location.
Write as much detailed info as possible
Other than mentioning the services and locations, talk about projects you've done and how you did them. Give a little history of yourself and the business. Adding to your profile a human touch can go a long way.
If you serve multiple areas, make sure to check this off in the profile options
This, like mentioning your service area, helps google understand where you operate and what your reach is.
Next up, we'll be talking about the proper way to create online profiles, whether social or for business directories. These make a huge difference in helping rank in local organic searches and getting boosted in the maps.
Want A Proper GMB Profile? Apply For A Free Strategy Session Where We'll Go Over Your Business And Discuss The Best Way To Build The Profile.